MATE X Folding Electric Bike
From ivc wiki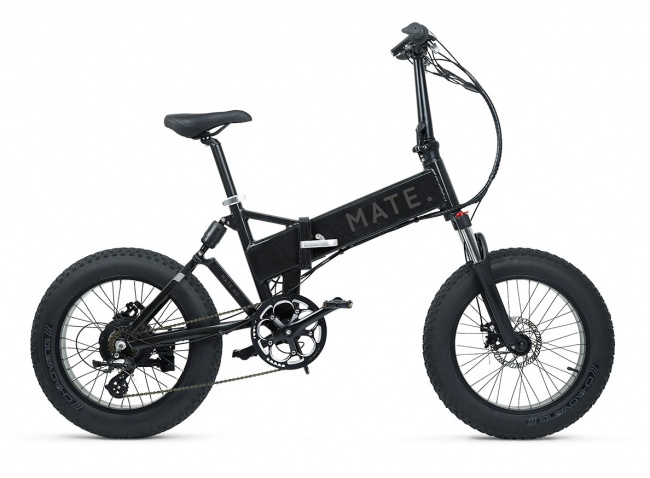 The MATE X is a folding electric bicycle. It was made possible in June 2017 by Christian Adel Michael and Julie Kronstrøm from Copenhagen, Denmark. This was the second Indiegogo campaign they successfully funded. The first campaign was the original MATE folding ebike.
Campaign started: 1st May 2018
Campaign published: 16th July 2018
Campaign concluded: 23rd July 2018 15th August 2018 14th September 2018 22nd September 2018 28nd September 2018
First big shipment: May/June 2019, majority July/August 2019
Models
There are three different models of the MATE X, the 250, 250+ and 750.
MATE X 250
250W high performance hub motor
48V 11Ah Lithium-ion battery
55km range
32km/h max. speed
8-speed gear
20-inch fat tires
Computer dashboard
Front and rear suspension
2 year warranty
Retail price $2199
Indiegogo price $799
Shipping $200
MATE X 250+
250W high performance hub motor
48V 14Ah Lithium-ion battery
80km range
32km/h max. speed
8-speed gear
20-inch fat tires
Computer dashboard
Front and rear suspension
2 year warranty
Retail price $2399
Indiegogo price $899
Shipping $200
MATE X 750S
750W high performance hub motor
48V 14Ah Lithium-ion battery
80km range
48km/h max. speed
8-speed gear
20-inch fat tires
Computer dashboard
Thumb throttle
Front and rear suspension
2 year warranty
Retail price $2699
Indiegogo price $999
Shipping $200
Specs
Hardware
Type: Folding electric bicycle
Frame: 6061 aluminum alloy
Motor:

China bikes: Bafang RM G060.750.DC 48V-52V 250W/750W brushless geared rear-drive hub motor with hall-sensors, gear reduction ratio of 1:5, nominal 50-60 Nm torque (from Mate), maximum torque of 80 Nm, 20 magnet poles (2P), IP65, efficiency >80%, 4.6kg
Taiwan bikes: CZJB JB-104C2 750W 24V-60V, brushless geared rear-drive hub motor, efficiency >82%, 3.3kg

Controller:

China bikes: Custom Bafang 48V sine-wave controller with UART-port with HIGO-connectors - 12A continuous 25A max. current (or 35A)?
Taiwan bikes: AICO controller

Computer display:

China bikes:
Taiwan bikes:

Most suitable one (Mate statement)

Suspension front: Adjustable MOZO FATMAN-26-20 front fork, lightweight forged alloy, responsive adjustable spring tension, 60mm travel, mechanical lock-out, 1.5 kg
Suspension rear: Adjustable HLT HLT-620 rear spring shock suppressor, 125L x 750 LBS - Pre-adjusted with 24 +/- 2 mm travel
USB-port: Yes, 5V 500mA USB-A output
Shifter: Shimano 8-speed SIS index shifting / Shimano RevoShift 8-speed twist shifter
Rear derailleur: Shimano RD-M310 Altus SGS rear derailleur black
Crankset: 170 mm alloy crank arms, 53T/tooth chainring
Bottom bracket: BB988 68 mm x 164 mm, threaded
Tire type: 20-inch 4.0-inch wide fat tires, studded all-terrain or street road profile
Rims: 80mm wide rims, 36-hole F, with reflectors
Spokes: 36 spokes front/rear, 12-gauge rear, 13-gauge front, black
Front hub: 135 mm, 20-inch 36-hole
Rear hub: 185 mm, 20-inch 36-hole
Pedals: Foldable with reflectors
Brakes: Tektro EL350-RS mechanical or Tektro HD-E350 hydraulic 160 mm disc brakes, aluminium Tektro rotors, with motor cut-off sensor,
Fender: Custom made all covering (upgrade option)
Colors: Black, White, Red, Green, Off-white, Pink-green, Grey, Camouflage
Battery charger: 48V 2A regular charger, Coming Data CP05460400 54.6V 4A super charger (upgrade option)
Battery capacity:

48V 11Ah
48V 14.5Ah
48V 17.5Ah (upgrade option)

Battery enclosure: Boazhi aluminum casing, with fuse, charging plug and lock
Battery brand: Samsung/Sanyo/Panasonic/LG cells
Battery configuration: 70 cells - 48.1V 11Ah 14s5p (3.7V 2200mAh cells)

14.5Ah battery: 48.1V 14Ah 14s5p (3.7V 2800mAh cells)
17.5Ah battery (upgrade): 48.1V 17.5Ah 14s5p (3.7V 3500mAh cells)

Rack tube diameter: 16 mm
Features
Max speed: 250W 25 km/h / 15mph - 750W 32 km/h / 20 mph
Battery range: 80km with 14.5Ah, 120km with 17.5Ah, w/pedal-assist, dependent upon usage, weather, conditions, terrain and rider's total weight
Battery only range: 20-30km throttle only
Advanced controller configuration:

Unlocked Ludacris Mode 10 and 29mph / 46kmh max. speed
Enter pin code for China bikes 1801 and Taiwan bikes 1919 - warranty void

Folding points: 4 steps (main body, steering stem, seatpost, pedals)
Keep folded lock: No
Kick-stand: Yes
Carrying handle: Yes
Pedal assist: Yes
Walk assist: Yes, smart display upgrade
Thumb throttle: 250 No, 750S YEs
Battery removal: Yes
Battery lock: Yes
Extras: fenders, front light, rear rack with red light, thumb throttle
Dimensions
Bike dimensions: 180 cm / 71 in L x 65 cm / 25.6 in W x 124 cm / 48.8 in H
Bike dimensions when folded: 103 cm / 40.5 in L x 59 cm / 23.2 in W x 78 cm / 30.7 in H
Old Folded size: approx. L95xH73xD40cm
Battery dimensions: L410xW100xD40mm
Weight w/o battery: 26kg / 57.3 lbs
Weight w/ battery: 29kg / 63.9 lbs
Battery weight: 3.0kg
Rider size range: 150-215 cm
Rider max weight: 150 kg / 330lbs
Rider minimum age: 16 years old
Retail price: 2199USD / 2399USD / 2699USD
Campaign price July 2018 to November 2018: 799USD / 899USD / 999USD
Setup
Insert the seat stem and adjust the lock bracket
Mount the handle bars and lock it in place
Install the front wheel and insert the lever
Screw in place the pedals
Put the reflectors on the wheels
Install the fenders and rear rack
Adjust to get a flat saddle
Adjust the handle bar height and level with the lever
Inflate the tires to 40-60 psi, 3 to 5 bar
Charge the battery by plugging the charger plug
Configure the bike computer, double tap power
Perks / accessories
Tektro Hydraulic Disc Brakes ($129)
Flashy color display ($99)
Custom MATE metal fenders ($49)
Thumb throttle ($49)
"BOOSTED" battery 17,5Ah ($99)
Limited Edition UNICORN Finish ($49)
Rear-rack with brake-lights ($99)
EXTRA high-speed charger ($79)
EXTRA "BOOSTED"+17,5Ah Battery ($429)
Spare set of tires incl. tubes ($49)
"JOKER" Light Set (front+rear) ($49)
JET GREY Color ($29)
IMPERIAL WOODLAND Color pattern ($99)
Controller configuration
Optimal controller settings:
System voltage: 48V
Wheel size: 24-inch (even though the real wheel size is 20-inch, it will affect the speed indicator)
Assist levels: 4 - 1 to 9 levels
Optimal assistant level: 5 or 6
Speed limit: 25 km/h in EU, or 99 km/h otherwise
Power indicator: Voltage, easier to determine battery state - percentage only in five steps
Third-party upgrade ideas
LED light strips underneath
Strong head-beams
GPS tracker
Folding magnet lock
Storage bag/box
Custom front and rear lights - light comparison
Upgrades
DNM AOY-36RC Air Rear Shock 165x35mm [1] - for better off-road performance
LitePro 58T BCD 130mm black aluminium front chain ring with flange [2] - peddle comfortable on assistant level 5 and up
Bafang 48V 250W sticker - for 750W models [3] - for quick checks
Kryptonite Evolution Series 4 1090 10mm 2.77kg - solid, flexible, and insurance certified lock

ABUS CityChain 1060/85 10mm 2.10kg
ABUS CityChain 1010/85 9mm 1.85kg
Kryptonite Keeper 785 7mm 1.59kg

Seat: MSDADA Comfortable Bike Seat-Padded cushion memory foam seat - more comfortable than the original
Similar bikes
References