TBS Discovery Pro
From ivc wiki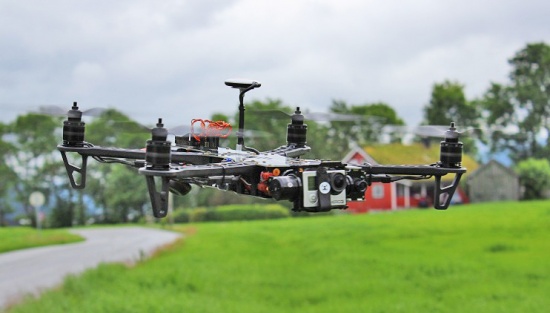 The Discovery Pro is made by Team BlackSheep and spesially made for aerial photography and videography. It is based on the
TBS Discovery
with additional electronics for the on-board brushless gimbal controller and video switcher.
Specifications
Type: Asymmetric spider quadrotor
Airframe: Reinforced fiberglass
Absolute size: *notyet*
Frame only size: *notyet*
All up weight: 1500-2000 grams

Frame with arms: 414 grams
Frame only: *notyet* grams

Takeoff weight: 800-1200 grams
Current sensor: on-board 50A
Battery: 4S 3300-4500mAh 30C+ single LiPo pack recommended

Battery weight: 320-460 grams recommended
Battery cage: *notyet* mm - extreme dimensions, aim for 4-8 mm less for good fit

Usable battery space: *notyet*
Note: at L142 mm, limited by the rear arms on the top plate to either W36 or H31 mm

Suitable motors: 22x12 mm (Ø28x26-28mm) or 22x16 mm (Ø28x30-34mm) recommended, 900KV, 150-250W, 50-75grams

Motor mount arms: 16x19 mm pattern

Propellers: 9x5-inch (more locked-in, less airtime) or 10x5-inch (more airtime, less locked-in)
ESC: 4x 18-30A 400Hz switched speed controller
Forward speed: ~60 km/h / ~40 miles/h
Flight time: 10-12 minutes
Center of Gravity: 15 mm forward of the bottom Center of Thrust mark
Behaviors like: T-Rex 450 without 3D capability [1]
Recommended flying area: minimum 25x25 meters
Screws: Frame arms 24x M2.5x5mm, frame spacers 8x M3x6mm, motors 16x M3x8mm
Clone arms: HJ450, RM450, Q450, FY450 [2]
Product pages:

DJI Hobby - Flame Wheel kits and NAZA flight controller
Team BlackSheep - TBS Discovery Pro - Gimbal camera and FPV frame

Similar models:
Manual
I put most of my time on this project creating the official manual for the PRO.
Board revisions
v1.0 May 2013 - pre-production model, used for internal testing
v1.1 July 2013 - launch production model, shipped August 2013
v1.2 November 2013 - added test points for dianostics
Equipment
Battery
TBS 4S 4500mAh Lipo pack - great quality, Kypom brand
Kypom 4S 5100mAh Lipo pack - great quality, good capacity, 15min flights [3]
Zippy Compact 4S 5800mAh 25C Lipo pack - great capacity, just fits might need to cut edge of frame arm
Zippy Compact 4S 5000mAh 25C Lipo pack - fits nicely, 14-15min flights [4]
Accessories
Tips and tricks
Take a look at TBS Discovery page, it has a lot in common with the PRO.
Presentation
DISCOVERY PRO announcement:
Video switching example:
Quick assembly and installation video:
References