Mac Mini
From ivc wiki
The Mac Mini is a perfect computer if you want both small and powerful in the same package. Barebone without display, keyboard or mouse. I'm replacing an old PowerMac G4 400 Mhz with a new Mac Mini Core 2 Duo 2.0 GHz.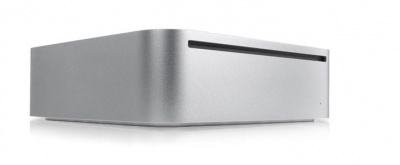 Tutorials
Specifications
Intel Core 2 Duo 2.0 GHz T7200 processor

4 MB L2 cache
667 MHz front side bus
Socket 479

Intel 945GM Mobile Express chipset
...with Intel GMA950 on-board graphics processor with 64 MB DDR2 SDRAM shared with system memory

DVI video output
VGA video output via included adapter

Nanya 1 GB (2x 512 MB) 667 MHz DDR2 SO-DIMM PC2-5300 memory
Upgraded: Crucial 4 GB (2x 2 GB) 667 MHz DDR2 SO-DIMM PC2-5300 CL5 memory
Hitachi HTS541612J9SA00 120 GB 5400 RPM 8 MB Cache S-ATA Harddrive
Pioneer Apple DVR-K06PA SuperDrive slot-loading CD/DVD writer
Network 10/100/1000 Mbit ethernet
Wireless Airport Extreme mini PCI-express 54 Mbps network adapter
Broadcom Bluetooth 2.0 and Enhanced Data Rate
Built-in speaker, optical/audio input, and optical/headphone output
Remote control
Software:

Mac OS X 10.4 Tiger
iLife 08
Front Row

Size and weight:

Height: 5.98 cm
Width: 16.51 cm
Depth: 16.51 cm
Weight: 1.31 Kg
Upgrades
Corsair 2 GB (2x 1 GB) 667 MHz DDR2 SO-DIMM PC2-5300 memory
Seagate Momentus 120 GB 7200 RPM 8 MB Cache SATA harddrive - Yet to be upgraded
Motherboard
Mac mini 1.66 GHz 2006 model.
Monitors
Candidates:
Sites