Mac mini upgrade memory
From ivc wiki
Upgrading Memory
The Mac mini is not supposed to be a user upgradable machine. To open the casing, there are flaps and clips around the edges holding the two halfs together.
I used two spackle knife used to spread surface compound to fill holes and repair damaged walls, one on each side 90 degree apart. By carefully sliding the knife back and forth I could tell where the clips where located.
Once the clips one 3 sides are loosened, the top half should come off easily.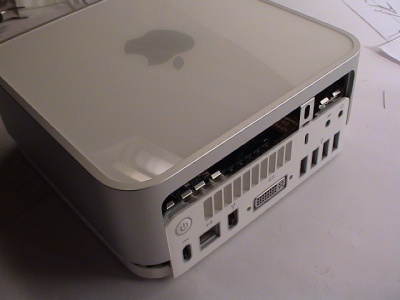 The machine is build with small margins and packs a lot of components in a compact form factor. Starting from the top, the DVD writer almost dominates the entire surface, sharing the corners with the Bluetooth and wlan antennas.
The DVD writer, hard drive, wireless antennas, and radial fan is fitted on a internal cartridge. The the DVD writer, hard drive, and audio connections is connected to the motherboard on a special riser-card. The antennas have their own direct cable.
Underneath the DVD write is the fan, air flow conduct, and the S-ATA hard drive. The empty space in the air flow conduct is where the air from the fan flows through the processor heat sink fins.
The T-shaped foam over the hard drive helps to seperate and maximize the air flow over the memory modules and the chipset heat sink.
The dual channel memory modules and heat sink for the chipset, and the processor heat sink
Mini PCI-express wireless network adapter with audio board on top.
The old Nanya NT512T64UH8B0FN-3C modules and new Crucial CT25664AC667 modules. Specified for DDR2 PC2-5300 667 MHz 200-pin SO-DIMM.
New modules installed and ready to go.