Benchwheel Penny Electric Skateboard
From ivc wiki
Jump to navigation
Jump to search
The Benchwheel Penny Board is a 28-in / 71cm single 1000W motor electric skateboard. It's what you would call a Chinese electric skateboard. The appeal is to make a battery powered Penny Board (the plastic boards), actually this is the size of the Nickel board and made of wood instead of plastic.
The range is 8km to 10km / 5 to 6 miles with a max. speed of 24kph / 15mph, but expect less if you don't upgrade to better quality parts yourself. Retail price 349 USD + shipping. Get a good price at aliexpress or alibaba.
Features
Comes in two board designs: a classic look and a tech-look, both light-weight, resilient and durable
Excellent grip carved out grip at the board end for convenient carrying
Sturdy high-clearance metal box protects the batteries and electronics when going over rough terrains, the slim case design provides low-visible signature making the board appear non-electric
Large 80 mm high-speed PU wheels
36 Volt 1000 Watt high-powered brush-less motor provides top speeds up to 24 kph / 15 mph featuring regenerative braking
Ergonomic 2.4GHz remote controlling driving modes (speed/energy saving) and direction, the controller employs sine-wave modulation allowing fine-grained speed control
Recharge the controller only once per week, conveniently on the mini USB charging port
90Wh battery pack providing driving ranges of around 10 km / 6 miles, Samsung batteries cells with high discharge
1.5 hour quick charging
Gear ratio 1:3 (16-48T) for responsiveness and fast acceleration
Specifications
Company: Hangzhou Bench Technology Co., Ltd - Hangzhou, China
Released: January 2017
Model: D001 / D002
Re-branded boards: LiftBoard
Based- and improved-upon: Benchwheel Dual 1800W Motor 2015, Benchwheel Single 1800W Motor 2015
Board: Bamboo and maple composite, tech model 3 layer bamboo + 2 layer fiber glass, classic model 7 layer maple + 2 layer fiber glass
Controller: Custom Bench sine-wave modulation (FOC) controller (ESC), battery management and charger (BMS) - both separate boards
Battery: Lithium-ion 2.5Ah 90Wh 10S1P 36V (10x3.6V, voltage 32V to 42V) 520g 14 AWG wires XT60 connector, 10x Samsung INR18650-25R M (Lithium manganese nickel - LiNiMnCoO2) 20A discharge green 18650 cells connected in series

Upgrade: Samsung 30Q 3000mAh 15A / LG HG2 3000mAh cells for longer range, or Sony VTC4 18650 2100mAh 30A cells for better torque - 6USD ea

Charger: 100-220V AC input, 42V 2A output adapter with 2-pin plug, CE RoHS, green LED for redy/complete and red LED for charging
Motor: N5065 170kV 14-pole 1000W 50A 61x49.5mm Ø8 bore Ø30 mounting pattern brushless motor with closed back cover
Wheels: PU 80x45mm 78A hardness - drive wheel has 8 spoke
Belt: HTD 225-3M 13mm 75 teeth 3mm pitch 225mm pitch length - on 16mm wide wheel pulley, 15mm belt does not fit

Upgrade: SDP A 6R23M075150 3mm (HTD) Pitch, 75 Teeth, 15mm wide Single Sided Neoprene Belt with Fiberglass Cords - 9.90USD
Change the drive train with 5mm pitch pulleys and belt for better power traction, less wear

Wheel pulley: 48T OD45mm ID36mm 3mm pitch 16mm wide grooves
Motor pulley: 16T OD16mm? ID8mm bore 3mm pitch 16mm wide grooves with key-slot for corresponding motor shaft
Bearings: 8x 608-2Z OD22mm ID8mm 7mm wide NMB skateboard bearings - bearing on drive pulley side is flanged to hold gear in place

Upgrade: Zealous with integrated spacer 20USD, or Bones Reds ceramics 50USD, or Loaded Jehu (use in Boosted) 20USD, or ACER SK8 Ceramic 608 Bearings 35USD

Remote: Ergonomic, two-speed (full-speed/half-speed), jog-stick (forward/brake), 3-LED board-battery level indicator, 800mAh LiPo battery, mini-USB charging (no data), nRF24L01+ based 2.4GHz transmitter and receiver module - reliable
Grip tape: Tech or Classic design
Case: Aluminium with RGB LED light strip underneath

Upgrade: Better quality grip tape

Weatherproof: No official rating, but electronics case is sealed except charging port and power button
Max. load: 100 kg / 220 lbs
Length: 70.9cm / 28-in
Ride height: 12.3cm / 4.8-in
Overall width: 26.0cm / 10.3-in
Truck hanger width: 17.0cm / 6.7-in
Board thickness: 1.2cm / 0.47-in
Package size: 76 x 30 x 19 cm
Weight: 4.8kg / 10.6lbs
Kit contents:

1x Benchwheel Penny Board Electric Skateboard fully assembled, half-charged
1x Benchwheel wireless remote pre-paired
1x Two-piece hand tool for maintenance
1x 100 to 240V AC 42V 2A DC adapter
1x mini-USB remote charging cable
1x EU power cable, or UK power cable, or US power cable, or AU power cable
1x Certification sticker
1x Quick-start guide leaflet
Remote operation
The instructions doesn't cover the operation of the remote properly. Albeit being a simple remote, there is a trick to switch between full- and half-speed.
Power on/off:
Press and hold the top-red button for 2 seconds to turn on or off the remote
Change between full and half-speed mode:
This can only be done after powering on the remote and before touching the joy-stick
Press the top-red button momentarily and the LED indicator on the remote will switch between L (half-speed) and H (full-speed)
After using the board, the only way to switch speed mode is to turn off and on the remote, then change mode
Pair remote and board:
Turn both remote and board off
Press and hold the power button on both the remote and board for 5 seconds until two beeps are heard
Turn both off and on again to use the now paired board
The controller comes pre-paired but if you hold the power button accidentally too long it can loose the paired connection.
Change between forward and reverse direction:
Power on the remote and board
Move the joy-stick forward once to engage the motor
Now, momentarily press the top-red button to change between forward and reverse direction
This can be done while using the board, stand-still or in motion.
Check board battery level:
Power on both the remote and board
Look at the lower three LED indicators on the remote, this indicates the battery capacity left
All three 100%, two 66% left, one 33%, blinking 5-10% left
When the remote starts to beep and the lower red LED starts to blink, it is giving you a warning that the battery is about to run out and needs to be charge immediately. The controller limits the max. speed. Under a 1km/mile left of juice.
Upgrades
Front and tail LED light mounts/reflectors - be seen
Belt cover - 3D printed to prevent grit coming in-between the belt and pulley
Current sensor, ESP current and voltage display - battery health
On-board web server with current and voltage chart history on OLED display/wireless OLED
External 2A USB power socket - to charge the remote and phone
Replace rear truck with dual motor and extra speed controller - more speed and acceleration
Swap over to HTD-5M 15mm 53T belt and 15-36T (or 15-40T) pulleys - for more efficient drive train
Truck assembly
Front truck, regular assembly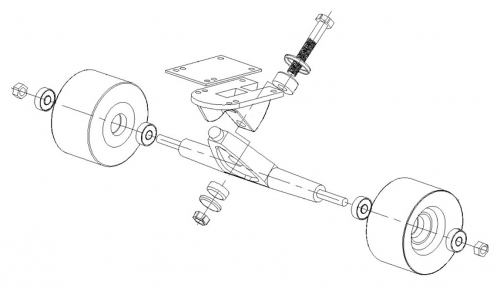 Rear truck with motor, belt, pulleys and wheels - note: dual motor shown in drawing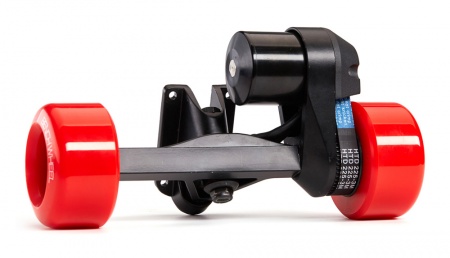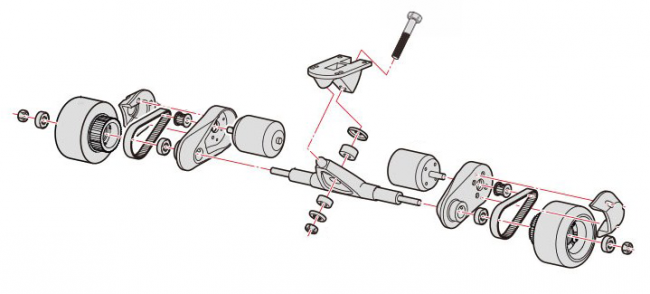 Rear drive wheel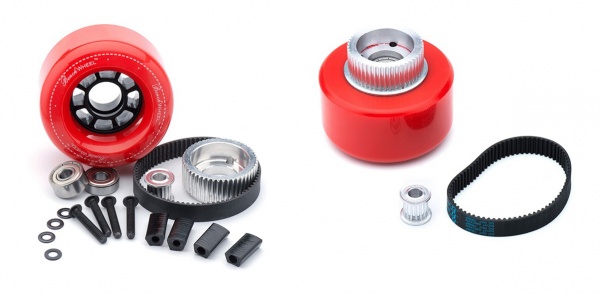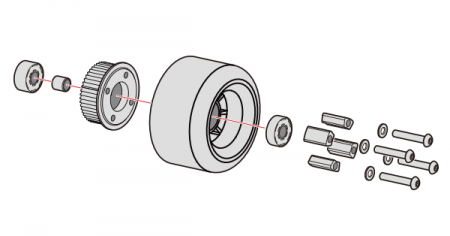 Hand-held remote control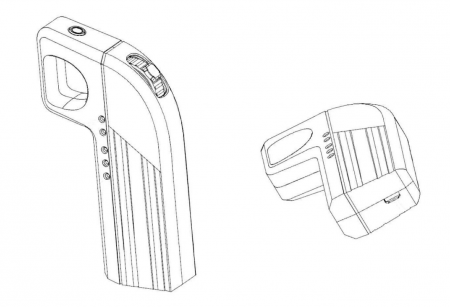 Electronics bay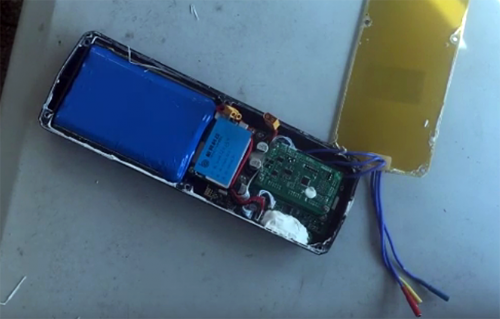 Analysis
Pros
Small and relatively light-weight
Great value at low cost
Fast and good hill climbing ability
Good torque and responsiveness due to belt drive
Powerful 1000W motor
Handle cut-out to carry the board
Easy to use and reliable remote control
Repair and disassembly relatively easy
Modular design
Electronics bay opens by removing six screws
Stronger trucks then previous Benchwheel boards
Possible two swap drive wheel with any three for even wear
Motor assembly can be installed on either left or right rear side
Cons
Board does not flex, hard ride - if trucks loosened, becomes wobbly
Charging port and power button not weatherproof
Belt exposed to dust and grit
Drive-train a bit noisy
Motor pulley glued in-place with thread-lock
Battery not easily replaceable (or swappable)
Poor wheel traction on wet ground
No head- or tail-lights
Repair / maintenance
Official repair videos are available on YouTube.
Guides
Stock board setup results:
Stock board setup results:
Reviews
Board details
References