Ultimate Ears UE-10 Pro
From ivc wiki
Jump to navigation
Jump to search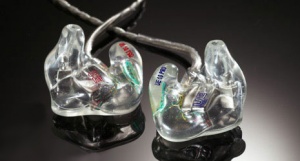 These in-earphones are specially custom made to fit my ear canal. Each piece consists of 3 drivers; two low-mid-end drivers in parallel to balance the load and a single high-end tweeter. The crossover is handled by passive low-pass and high-pass filters respectively. A resistor in the passive crossover network flattens bass curve to make the low and midrange frequencies align better with the highs.
As you might imagine, the audio quality, soundscape, and compact size is something else, just pure bliss to use.
Specs
Type: Canal in-ear monitors
Drivers: Triple driver with surface mount crossover network
Frequency response: 20Hz to 16kHz (±3dB)
High Frequency Driver: Balanced armature
Low Frequency Drivers: Dual loaded armature
Input Sensitivity: 119 dB/mW
Impedance: 13.3 Ohms
Cable Length: 117 cm transparent mesh cable
Input Connector: 1/4-inch stereo plug, 1/8-inch stereo adapter included
Noise Isolation: 26dB
Cleaning tool: Wax removal tool
Travel Case: Engraved metal carrying case with your name on
Standard finishes: 13 color options, including clear, plus 2 color swirls
Accessories: 117cm and 163cm replacement cables, lubricant
Warranty: 1 year, 30 day warranty against poor fit
Models
I first tried the UE-5 (two drivers) but they didn't fit right. After getting a new imprint and a second set of UE-5 the sound was still not right and as clear as I imagined.
The nice people at Ultimate Ears (thanks!) let me keep the two previous UE-5 and upgrade to the UE-10 Pro (for a small fee). The audio difference was noticeable better. It's been my favorite earphone since I got them in April 2005 (as of writing Sept 2011).
The UE-10 Pro has since been upgraded to UE-11 Pro and then JH11 Pro.
Color blend
Since the entire casing is custom poured, the color can be mixed and blended to your own preferences. I chose translucent body with a black colored end-cap, a nice neutral match and you can still see the insides.
Refences