T-Rex 250
From ivc wiki
Jump to navigation
Jump to search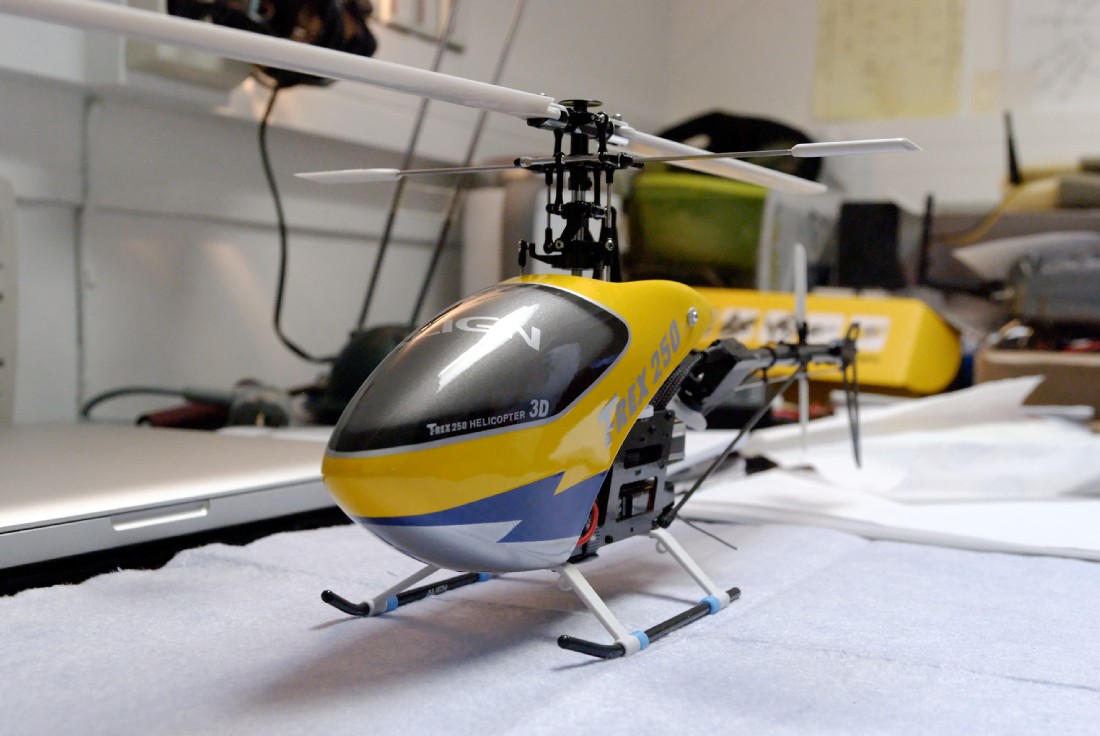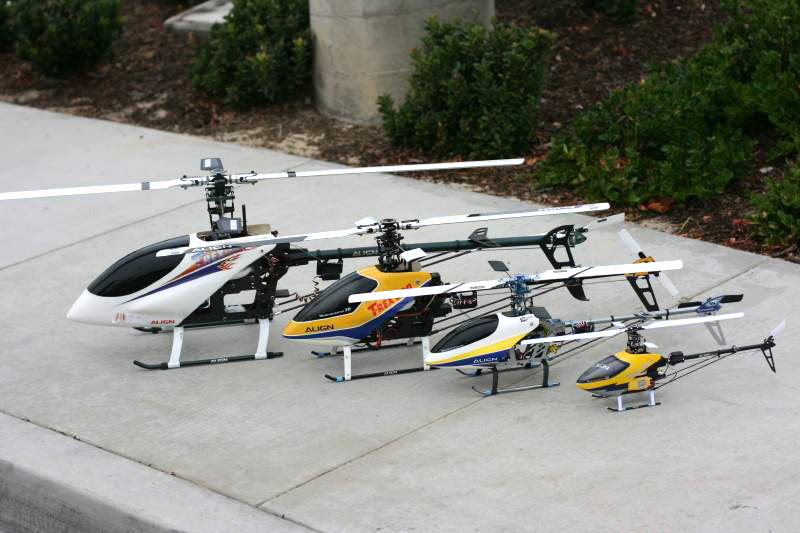 Ordered 18th April 2009 and built throughout April and May.
This is a new 200 series micro-helicopter from Align, announced in late 2008. Engineered to the quality expected for a T-Rex. There were a few initial problems with the tail but it was quickly handled and fix with a new metal replacement.
The build requires extra attention to details and precision when setting up the links, angles, aligning, and leveling due to the small scale of the helicopter.
My Kit
T-Rex 250 Super Combo

Updated tail grip, 1 bearing (instead of 2)
CF frame 1.2 mm (instead of 1.0 mm
Hex screws 0.9 mm (still old, newer models have 1.3 mm)

Spektrum DX7 heli transmitter, incl. 9.6V 1500 mAh NiMH battery
Spektrum AR6100e 6 channel micro-receiver
Outrage 860 mAh and Thunder Power 910 mAh batteries
Download the manuals:
250 SE
In late August 2009 Align released the improved T-Rex 250 SE. The main differences are a all shiny silver metal head, rotor holder, improved CCPM plate for better 3D, new bearings in washout and mixer arms minimizes slop, upgraded tail with even more grip weights reduces servo load, exchangeable main gear, new more efficient 250SP motor, new anti-rotation guide, and 1.3 mm headed screws standard. It's a revised T-Rex 250, all the new parts are available as upgrades (29 right now).
Setup
Upgrades
This is a list of possible upgrades, it includes third-part manufacturer parts as well as Align's own upgrades and revised spare parts.
See the parts I've gotten:
From what I've found the following notation at the end of the Align partnumbers designates the type of change done to the part:
-1 or 1 - Minor revision of the part to fix a design flaw or obvious fault, e.g. fixed tail hub bearings, longer tail control arm
A - Upgraded part, offers additional functionality compared to the old part, e.g. 1.3 mm hexagon screws (most parts)
F - Color difference, silver mostly, e.g. new silver parts for 250SE
Q - Metal part, silver mostly, e.g. seesaw holder, head stopper
New number - All new part all together, e.g. new exchangeable main gear, metal version of parts
Item
Stock
Upgrade / Replacement [1] [2]
Swash/collective Servos
Align DS410 12.7g

Hitec HS-65MG [3]
JR DS287MG
JR DS285 (helihobby sugg)
Hitec HS-5065

Tail Servo
Align DS420 12.7g

JR DS290G / DS380G in uk
JR DS3500G (big) [4]
Hitec HSG-5083MG (+HG-5000)
Futaba S3154 (burnout)
Futaba S9650 (big) [5]
Futaba S9257 (also big) [6]
Align DS520 [7]
Logitech 3100G (+2100T)
Spartan Servo Database

Gyro
Align GP750

Spartan DS760 [8] [9]
Hitec HG-5000 (Rebranded 2100T)
Futaba GY520
Futaba GY401
Logitech 2100T [10]
CY Mini-G [11]

Receiver
None
Spektrum AR6100/AR6100E
Battery
None

Outrage NRG XP30 3S1P 11.1V 860mAH 30C - 85g New July 2009
Outrage XP25 3S1P 860mah 25C - 70g
Thunder Power 910mAh 3SP1 11.1V Pro-lite Lipo V2 16C TP910-3S - 73g
Thunder Power RC Pro Power 30C 3S 850mAh 11.1V - 74g
Align 3S1P 11.1V 850mAh/20C KX880002A - 68g
Hyperion G3 CX LiPo 850mAh 25C 3s HP-LG325-850-3S - 68g New July 2009
Kong Power 3S 11.1V 850mAh - 70g
Hyperion G3 VX 3S 1100mAh 35C - Big 97g
Zippy Flightmax 800mAh 3S1P 20C - Cheap 78g [12]

Motor
Align RCM-BL250 3400KV 9-pole

Scorpion HK-2208-3600
Scorpion HK-2206-3900 [13] [14]
Align RCM-BL250SP 3400KV

ESC
Align RCE-BL15X 15A JST

YGE 1+ProgCard [15]
Castle Creations 25A ESC

Pinion
15T

Venom 16T (3D)
Align 16T

Receiver Power
ESC BEC
Medusa Potencia 5V/2A BEC MR-BEC-35020 [16]
Other upgrades

Body and main rotor
KDE Aliminium Bottom Bracket AT250-BBU [17] [18]
Extreme Production Metal Battery Mount AT25005 [19]
Align New Exchangeable Style Main Gear H25096 [20]
Align Metal Main Shaft Bearing Blocks H25077 1 [21]
Extreme Production Main Shaft Bearing Blocks [22]
Extreme Production Graphite Swash Guide AT25006 [23]
MicroHeli Carbon Fiber Anti-Rotation Guide MH-TX2001S [24]
MicroHeli Main Gear One-way Bearing Hub MH-TX2102 [25]
Gaui G-203250 Bearings on Upper and Lower Mixer Arms [26] [27]
Boca Rotor Head Bearings 250HEAD [28] [29]
TrueBlood Feathering Shaft Dampeners DAMPENERS10 [30]
Align 205D Carbon Fiber Main Blades H25072 [31]
Outrage Paddle 200 Size RG20167 [32] [33]

Tail drive and tail rotor
Align Metal Tail Drive Gear Assembly H25079 [34] - Already on newer kits
Align Metal Tail Boom Mount H25094 [35]
Infinity Hobby Tarbo Carbon Fiber Tail Boom [36] [37]
Align Carbon Fiber Tail Boom H25091 [38]
Align Metal Rudder Servo Mount H25076-1 [39]
Flying Sport Carbon Fiber Rudder Push-rod FS1209 [40]
Western Robotics 5.1V Step Down Regulator [41] - for Futaba servos

Infinity Hobby Super Tail Kevlar Belt [42]
Align Metal Tail Rotor Shaft Assembly H25075 [43]
Align New Tail Rotor Hub (2x instead of 4x bearings) H25074-1 [44] / H25074A [45] (250SE) - Already on newer kits
Align New Metal Tail Rotor Control Arm H25092 [46]
Align Tail Rotor Control Arm H25062-1 [47] - More Resolution
Align New Tail Rotor Holder Grips w/ Weights H25095 [48] / More Weights H25095A [49]
KBDD Tail Blades 40mm 4mm [50]
Align Tail Blades 37mm H25084 [51]
Align Carbon Fiber Tail Blades 40 mm Curved Batman Style H25093 [52]

Other
Align 1.3 mm Hardware Bag - Screws and Washers H25033A [53]
Align 1.3 mm Stainless Steel Linkage Balls H25055A [54]
Align Special Washers 0.9 mm H25054 [55] / 1.3 mm H25054A [56]
Align Lightning Yellow Painted Canopy H25050 [57]

250 SE upgrades [58]
Metal Main Rotor Holder Set H25003A [59] - Strengthened
Metal Rotor Housing H25004A [60] - Strengthened
Metal Flybar Control Set H25006A [61] - Strengthened
Metal Washout Control Arm H25011A [62] - Strengthened, better bearings
Metal SF Mixing Arm Set H25013A [63] - Strengthened, longer throw, better bearings
CCPM Metal Swashplate H25016A [64] - More throw
Anti Rotation Bracket Set H25044A [65]
New Metal Tail Holder Set H25095A [66] - More counter-weights
Metal Tail Belt Unit H25026A [67] - New control arm mount
Landing Skid Set H25034A [68] - More durable and height
Canopy Mounting Bolt H25039A [69] - Strengthened

And I use the T-Rex 250 Super Combo manual or T-Rex 250 SE manual for the rest of the parts
Third-part upgrades
List of third-party spare part and upgrade part manufacturers:
Spare part sites
Good websites to get T-Rex 250 spare parts and upgrades:
Things to note
ESC comes with JST plug for the battery, maybe change to a higher rated 50A Deans connector for less heat, larger connector surface
Add a piece of zip tie between the tailboom pushrod to secure
Threadlock to all metal-to-metal screws, only a slight drop on the tip of the screw
Use purple threadlock on most high-service areas and blue threadlock on other essential areas (head, engine, tail) or all, green threadlock on outer rim of bearings, red permanent threadlock on really essential areas (not really needed on T-Rex)
Use CA super glue for all metal-to-plastic screws
Add silicone shock oil to the belt to ease and smoothen the movement, eliminates build-up of static electricity
Silicon spray for the belt, TriFlow oil for shafts/bushings, White lithium grease for servos, General grease for bearings [71]
Only use petroleum oil on metal-to-metal parts, most plastic types will weaken when exposed
When threading the ball links, plier on the link and turn the plastic link
If servo head is not aligning horizontal as expected, turn it 180 degrees
Mount battery with connector cables sticking out towards the rotor shaft
Leave enought space between pinion and main gear that a piece of paper could pass through
Don't use trim on the trail rotor pitch, confuses the gyro
Make sure no servo linkage is binding to avoid servo tear/heat-up [72]
Avoid binding by moving link rod a hole further in, less travel range
The balance wire on some batteries can break, put the balance wire along-side the battery with a piece of tape [73]
Fly a few times to break in the heli, especially the links, less twitchy
Keep the ESC away from the gyro and possibly also the transmitter to minimize interference, 3-5 cm [74]
Also keep the servo and gyro signal wires away from the ESC and engine power wires [75]
Use the outter-most hole on the longest servo arm for the swash-servos, links rods perpendicular to the horn [76]
Although ESC is pre-programmed, do the setup to make sure the throttle range matches transmitter and any problems during manufacturing [77]
A good battery pack has the ability to hold voltage under load, some battery pack will drop voltage, resulting in bogging of head speed [78]
Be careful when removing the battery from the velco to avoid cracking the battery mount [79]
Most usual crash repair parts to get: main shafts, feathering spindles, blades, skids, flybar, tail belt, and ball links [80] [81] (left side, down)
Broken engine can cause ESC to die, check all 3 engine wires using ohm-meter, great variety between each wire indicates defect engine [82]
Always put on the ball links with the same orientation, the side with the text pointing outwards
When adjusting link length, only do full turns, no half turns, the link head has different sides and construction
Use 3S (series) batteries, 2S batteries doesn't have enough punch for proper headspeed
Try 0-100-100-100 throttle in normal mode when regular hovering is problematic
Solder Deans female connector on battery, male on speed controller
During gyro initialization, keep the heli still and no transmitter stick input
After extended use replace main shaft head screw, high-speed/stressed bearings, and worn-down parts
When changing the pinion, the gyro gain will likely be lower, i.e. 16T 63%, 15T 40% [83]
If heli moves to the left or blades are not tracking properly, try measuring the links between swash and seesaw arms, must be 100% identical
Proper blade tracking is important, it's one of the aspects of to get absolute razor-sharp precision control in-air, the difference is huge with properly tracking carbon blades
Checklist and maintenance
Check mixer nuts and bolts in head and tail
Inspect screws and alignment of main blades, flybar, and tail blades
Move feathering shaft to check dampeners
Check all ball links for slop or play
Check tail belt tension
Fully charged batteries, both heli and radio
Radio range check and trim settings
Make sure gyro, receiver, and esc is mounted securely
Inspect power and servo wiring
Perform full cyclic throw on all servos, watch swashplate movement
Switch to Normal mode, Throttle-hold on, low throttle stick, then connect power
Start a timer to notify when the battery is depleted
Final Setup
Photo gallery of the final T-Rex 250 build with everything mounted.
References
Builds and reviews
Traning
Other