Sony Ericsson P1i
From ivc wiki
Jump to navigation
Jump to search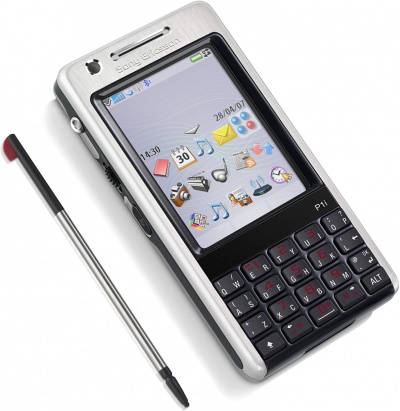 P1i is the new smartphone from Sony Ericsson, filling the gap between the older P990i and M600. Released to the market in the end of July 2007. I got mine 2nd August.
Pros
Two-three letter tac-tile keyboard feels comfortable to use
Smaller and lighter, slicker line
New Symbian 9.1 core system, UIQ3 GUI
Faster, more responsive
More available memory for open applications (128MB vs 64MB)
Flush backside, nothing sticking out
Package included free Wayfinder GPS unit, charger, and software activation key
Higher capacity battery by default (900 mAh vs 1120 mAh)
New hook for straps on the side
Better camera shortcuts, light, zoom, gallery, resolution, etc shortcut
M2 512 MB memory stick included
New messages finally has a 'Would you like to read this message'-prompt when new arrives
Like the status light on the bottom end of the phone to alert missed cals, new messages, etc.
Main menu customization
Cons
Jog-dial button still hard to push, built too deep into the side
Not that easy to go back using the touch screen for lefties
No easy way to lock the phone, lock slide-key gone
Crashes and reboots occasionally, I see firmware updates..
Camera lens less protected, no physical lens protector
Launch software versions
PDA software version: CXC162108 R6D23
Phone software version: CXC162037 R9G007
Bluetooth software version: CXC162143 R1C
CDA version: CDA162024/92 R3A
Summary
After using the phone for half a day, I'm very satisfied with the phone. I think I will keep this one for quite some time. All the minor quirks and kinks are gone, and the phone is as slick as you want it to bee. Still no EDGE, but who cares, Wifi WTF.