MacBook Air
From ivc wiki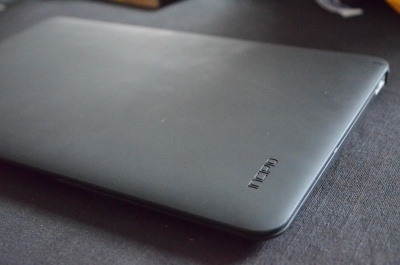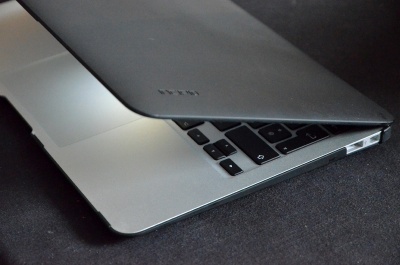 MacBook Air 11.6-inch second revision with Sandy Bridge and Thunderbolt technology. It's a very small and light Mac. This revision of the MBA is what I've been waiting for and thus far I'm satisfied.
Specs
I always pick the mid-level model of all the available configurations at the Apple store, usually boosts the best value.
Processor: Intel Core i5 1.6GHz Dual-Core
Memory: 4GB 1333MHz DDR3 SDRAM
Storage: Samsung SM128C SSD 128GB - This is the faster one, the alternative is Toshiba
Display: Samsung LTH116AT01A04 9CF3 11.6-inch
Battery: Lithium Polymer 6-cell (2-serie 3-parallel) 4790 mAh
OS: Mac OS X 10.7 Lion build 11A2063
Review
Speed and features: 4/5 - Core i5 coupled with Turbo Boost (clocks up to 2.3GHz) in this tiny body proves powerful
Design and form factor: 5/5 - Small and elegant, feels solid and details well thought-out
Battery life: 4.5/5 - 3.5 hours fit my needs
Display: 4/5 - Excellent for it's size and intentions, bezel could be smaller and black
Durability: 5/5 - Unibody aluminium, what else do you need
Expandability: 5/5 - Thunderbolt opens the possibility for any kind of accessories
Noise 4.5/5 - A fan spins up while the processor is under load, unnoticeable
Portability: 5/5 - At just over 1 kg and a tad wider than a piece of A4 paper it fits in any bag and quick to bring out
Rotate for book style use
Reading long articles and browsing texts is awesome in "portrait" orientation with the MacBook Air. Apple's own method to rotate the display works but with one little snag; the trackpad does not change orientation. Without the x and y axis swapped it's quite weird to move the mouse pointer and use the touch gestures.
Roatate display weird style:
Exit system preferences if open
Open system preferences
Hold command+option while clicking onthe Displays-icon
A new Rotation drag-down menu should appear over the Brightness-slider
Proper way with the trackpad or mouse orientation changed in synchronization with the display:
Reviews