Apple Serial Number Look-up
From ivc wiki
Jump to navigation
Jump to search
Pre-2010 Apple used a 11 character serial number for its products. From 2010 and onwards, Apple switched over/upgraded to a 12 character serial number.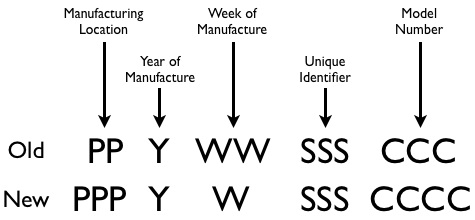 Old sequence: PPYWWSSSCCC
New sequence: PPPYWSSSCCCC

Where:

PP and PPP is the manufacturing plant
Y is the year along with the first or second half
WW and W is the week number of the year
SSS is a unique identifier to distinguish machines manufactured on the same week
CCC and CCCC specifies the exact production model
Manufacuring plant
The first two and later three characters define the factory where the unit was made.
Table:
PP/PP - Manufacuring plant
FC - Fountain, Colorado, USA
F - Fremont, California, USA
XA, XB, QP, G8 - USA
RN - Mexico
CK - Cork, Ireland
VM - Foxconn, Pardubice, Czech Republic
SG, E - Singapore
MB - Malaysia
PT, CY - Korea
EE, QT, UV - Taiwan
FK, F1, F2 - Foxconn, Zhengzhou, China 
W8 - Shanghai, China
DL, DM - Foxconn, China
DN - Foxconn, Chengdu, China
YM, 7J - Hon Hai/Foxconn, China
1C, 4H, WQ, F7 - China
C0 - Tech Com, Quanta Computer Susidiary, China
C3 - Foxxcon, Shenzhen, China
C7 - Pentragon, Changhai, China
RM - Refurbished/remanufactured

Year
The year is split into two parts to denote the first or second half of the manufacturing year, e.g Jan to Jun or Jul to Dec. There are 20 characters total, allowing a 10 year range, looping/resting every 10 years.
Table:
Y - Year - First/second half
C 0 First Half, e.g. 2010/2020/2030 Jan to Jun
D 0 Second Half, e.g. 2010/2020/2030 Jul to Dec
F 1 First Half
G 1 Second Half
H 2 First Half
J 2 Second Half
K 3 First Half
L 3 Second Half
M 4 First Half
N 4 Second Half
P 5 First Half
Q 5 Second Half
R 6 First Half
S 6 Second Half
T 7 First Half
V 7 Second Half
W 8 First Half
X 8 Second Half
Y 9 First Half
Z 9 Second Half

Week
The weeks is coded in much the same way as the year, but with a few more alphanumeric characters, 27 total. Paired with the Y code (year half), it is possible to decode which half of the year it was produced and then also the exact week number, e.g. if Y is C and W is F, means it was produced the first half of the year (2010) and thus week 12.
Table:
W - Week first half - Week second half
1 1 28, e.g. if Y is C (2010/2020/2030 first half), week number will be 1, if Y is D (2010/2020/2030 second half), week number will be 28
2 2 29
3 3 30
4 4 31
5 5  32
6 6 33
7 7 34
8 8 35
9 9 36
C 10 37
D 11 38
F 12 39
G 13 40
H 14 41
J 15 42
K 16 43
L 17 44
M 18 45
N 19 46
P 20 47
Q 21 48
R 22 49
T 23 50
V 24 51
W 25 52
X 26
Y 27

References