HP ProLiant DL380 G5 BIOS Updates
From ivc wiki
Jump to navigation
Jump to search
The DL380 G5 BIOS updates are hard to get hold of, so get them below instead.
Model: HP ProLiant DL380 G5 (Gen. 5) U2 rack server
Product code: P56
Available: 2006 to 2011
Stock BIOS (mine): 2010.10.25
Stock iLON 2 firmware (mine): 2.05
Stock Smart Array P400 firmware: 7.22
ROMPaq flash utility
This guide uses the 2011.05.02 bios bundle as a base. Extract this .exe-bundle using WinRar (right-click, extract) and use the HPQUSB.exe tool in the "ROMPaq USB Key" folder to make a USB flash drive.
Download bundle:
BIOS updates
The following list are all the BIOS updates as of February 2017 for this rack server.
Download:
Includes the following versions (HP direct link):
BIOS 2015.08.16
BIOS 2011.05.02
BIOS 2010.10.25
BIOS 2010.04.26
BIOS 2009.07.10
BIOS 2009.05.18
BIOS 2008.11.01
BIOS 2008.09.29
BIOS 2008.08.03
BIOS 2008.06.25
BIOS 2008.01.09
BIOS 2008.01.24
BIOS 2007.11.13
BIOS 2007.10.04
BIOS 2007.08.21
BIOS 2007.06.28
BIOS 2007.05.01
BIOS 2007.04.06
BIOS 2006.12.28 - Not available
BIOS 2006.11.08 - Not available
BIOS 2006.09.18 - Not available
BIOS 2006.06.13 - Not available
BIOS 2006.05.30 - Not available
To use any of the following updates, make the above flash drive and replace the CPQP5602.XXX file on the drive with the bios file you want to flash. Insert the USB drive and reboot into the ROMPAQ.exe flash tool.
You can use iLO2 Remote Console in Firefox to connect to the server and view/perform the update, you still need physical access unless you make an ISO of the USB drive and mount it virtually in iLO2.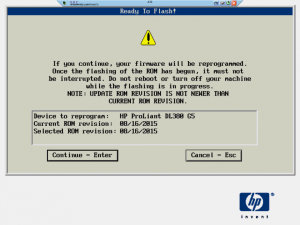 iLO2 firmware updates
Download all updates:
To update iLO2, configure Java (in the Java Control Panel) to use the following TLS 1.0 settings, open Firefox, go to Administration -> iLO2 Firmware and pick the firmware file. Click 'Send firmware image' and the progress bar should show all the passes for retreiving, verifing and flashing.
Includes the following versions:
iLON 2 v2.29
iLON 2 v2.27
iLON 2 v2.25
iLON 2 v2.23
iLON 2 v2.22
iLON 2 v2.20
iLON 2 v2.15
iLON 2 v2.12
iLON 2 v2.09
iLON 2 v2.07
iLON 2 v2.06
iLON 2 v2.05
iLON 2 v2.01
iLON 2 v1.82
iLON 2 v1.81
iLON 2 v1.80
iLON 2 v1.79
iLON 2 v1.78
iLON 2 v1.77
iLON 2 v1.70
iLON 2 v1.61
iLON 2 v1.60
HP Smart Array P400 firmware
Download all firmware updates:
The easiest way to get the update applied is either live on a Linux system or preferrably using a bootable USB drive. Download the final Smart Update Firmware DVD 10.10 2012.06.04 and create a drive using HP USB Key 2.0, then copy the Smart Array P400 .scexe-file into the /hp/swpackages/ directory.
The Smart Update Firmware DVD also includes a list of other firmware updates.
Included versions:
Firmware v7.24
Firmware v7.22
Firmware v7.18B
Firmware v7.18
Firmware v7.08
Firmware v6.86
Firmware v5.26C
Firmware v5.26B
Firmware v5.26
Firmware v5.22
Firmware v5.20
Firmware v4.12
Firmware v4.06
Firmware v2.10
Firmware v2.08
References