FrSky DHT RSSI configuration
From ivc wiki
Jump to navigation
Jump to search
The FrSky DHT is a flexible and relatively powerful 2.4 GHz transmitter. The kit comes as a DIY package with an RP-SMA connector which makes it easy to switch antennas. The communication is two-way allowing for both Tx and Rx signal strength indication (RSSI). The ACCST system shifts 80 channels around hundred times per second in the 2.4GHz band, similar to FSK.
I will use an D6FR receiver in this setup.
Serial adapter
To connect to the transmitter you need a USB-to-serial adapter. FrSky makes one with the necessary pin-header.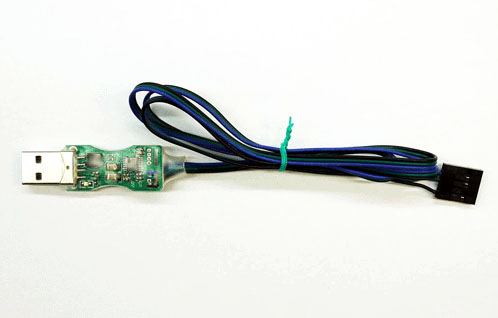 Plug the black header into the corresponding four pins on the transmitter. Power will be provided by the USB-port.
RSSI configuration
The DHT provides a serial data port for configuration of the alarms for the RSSI and the two analog inputs. Download the 3rd-party configuration program and the required drivers.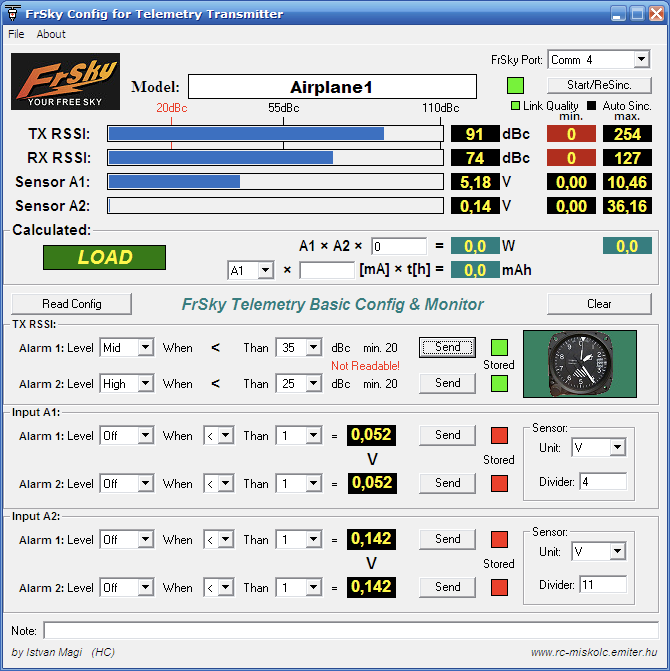 Antenna testing
To get an idea of how well the different set of antennas would perform, I swapped the antennas one by one and recorded the Tx and Rx values from the configuration application.
Transmitter: FrSky 2dbi rubber duck antenna

Receiver: FrSky 2dbi rubber duck antenna - RSSI Tx: 99 - RSSI Rx: 99
Receiver: Dipole 33 mm wire antenna - RSSI Tx: 99 - RSSI Rx: 99
Receiver: Dipole 30 mm wire antenna - RSSI Tx: 99 - RSSI Rx: 99
Receiver: Generic Wifi whip antenna- RSSI Tx: 99 - RSSI Rx: 99

Transmitter: Generic 2.4 GHz 14 dBi patch antenna

Receiver: FrSky 2dbi rubber duck antenna - RSSI Tx: 99 - RSSI Rx: 99
Receiver: Dipole 33 mm wire antenna - RSSI Tx: 99 - RSSI Rx: 99
Receiver: Dipole 30 mm wire antenna - RSSI Tx: 99 - RSSI Rx: 99
Receiver: Generic Wifi whip antenna- RSSI Tx: 99 - RSSI Rx: 99