Difference between revisions of "Eee PC"
From ivc wiki
Line 58:
Line 58:
 

* [http://www.cpuid.com/cpuz.php CPU-Z]

 

* [http://www.cpuid.com/cpuz.php CPU-Z]

 

* [http://www.futuremark.com/download/ 3DMark]

 

* [http://www.futuremark.com/download/ 3DMark]

 
+
 
 
 

== Accessories ==

 

== Accessories ==
---
Revision as of 02:52, 15 December 2007
This is the Asus Eee PC 701 4G ultra-portable computer releases in the fall 2007. It features a 7-inch widescreen display and 4 GB Solid State Drive (SSD) as the boot drive.
My Eee PC
Pearl white ordered from Qbit Online in Taiwan
Model: 701-W0002 - Chinese/US keyboard
Serial: 7BOAAQXXXX (first 6)
Motherboard rev: 701
Battery: 5200 mAh
No Mini-PCIe connector
Specifications
Dimensions:
Width: 22.5 cm
Depth: 16.5 cm
Height: 2.1-3.5 cm
Weight: 920 grams
Research
Chips and Connections
A simple diagram showing the major chips and connections on the motherboard.
Front: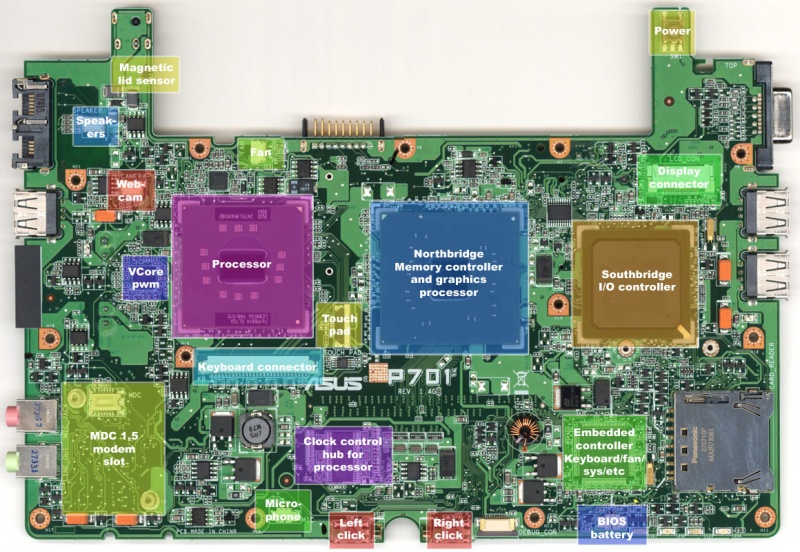 Back: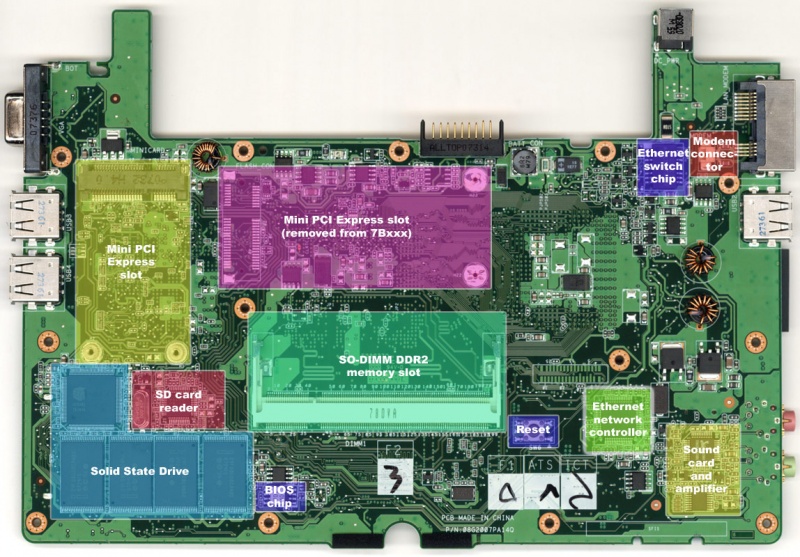 Solid State Drive
The solid state drive on the Eee is powered by a Silicon Motion SM223 CF flash card controller and 4x NAND flash chips from various manufacturers.
NAND flash found:
Intel 8Gbit 29F08G08CANB2 (found on mine)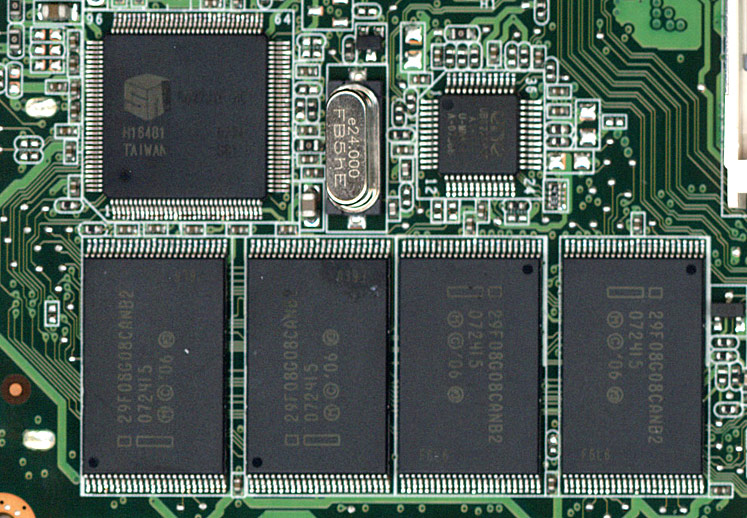 BIOS Chip
For a little while there was confusion how the BIOS was stored. Speculation about parts of the SSD could be used for the BIOS, integrated chipset BIOS, or a unknown IC-chip.
Turns out the BIOS chip was covered by a adhesive label and the part number is Winbond 25X40VSIG. It features a 8-pin 512K serial flash.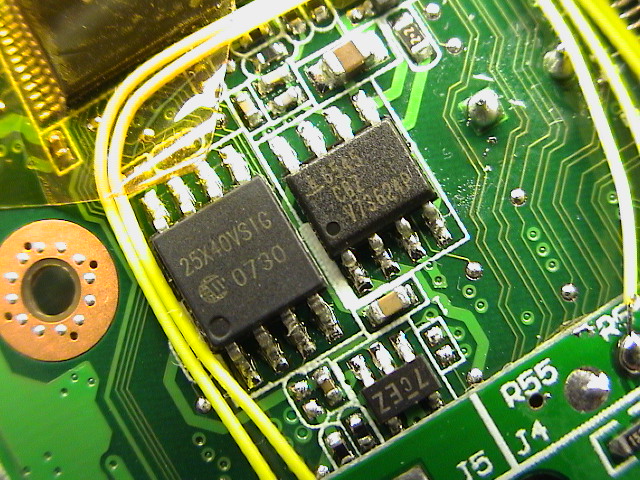 Overclocking
CPU frequency (FSB x multiplier): n/a
Front-Side-Bus frequency (quad-pumped bus rate)): n/a
Bus speed: n/a
Benchmarks
Accessories
Logitech Nano Mouse
Microsoft Bluetooth Notebook 5000 / 4000
LG GSA-E50L Slim DVD Writer
Internal Upgrades
USB hub
To install devices internally, more USB-connections are needed. I hooked into one of the regular USB-ports and routed the D+/D- signals from the southbridge/controller to a 4 port USB-hub. To make the port I hooked into work again, one of the 4 ports is connected back to the USB-port (Hub-to-USB-port and USB-port-to-HUB).
I installed 2 hubs this way to get enough ports and load balancing the bandwidth. Having two storage devices on the same upstream connection is not a good idea speed-wise.
The reason I choose to hook into the USB-port and leave the spare Mini-PCIe USB connection alone is that I want to:
Be able to use Mini-PCIe cards based on USB later
Disable the USB-ports in BIOS and disable all the new devices
Not have the devices disabled if I used the webcam or wifi connections
More information about USB hubs over at Wikipedia.
GPS with antenna
Bluetooth 2.0+EDR
SDHC card reader
Pendrive
Power switch
Integrated: Webcam, Wifi PCIe adapter, SD card reader, Sound card, Atheros eithernet, Atheros Mini-PCIe adapter
USB hub: Bluetooth, SD card reader, GPS adapter, FM transmitter
Modem
The modem port on the Eee is stuffed with a piece of black foam and not used. The modem is not installed on any Eee machine but the internal connection points are still there. The modem card connected via a MDC v1.5 connection, and 12 pin header for the card and the 2 pin header to connect to the RJ-11 jack is still in place on all current 4G motherboards.
Asus is still providing the Windows driver for the Conexant 56K modem on their download site, look for Modem_XP.zip
The modem card can be found on various Dell, Acer, and Sony laptops. On Ebay the Conexant card can be found under these model numbers:
Wifi
The wifi-card on the Eee is only 802.11b/g, not the latest draft-N. The card is can be easily changed by removing two screws and unmounting the card from the Mini-PCI Express socket.
After searching around I found a Intel 4965agn 802.11a/b/g/n Mini-PCIe card for a decent price.
Since 802.11n is MIMO (Multiple Input Multiple Output) it requires 3 antennas for optimal performance and range. I had a dead Nintendo Wii which happens to use the same antenna connectors for it's Broadcom wireless-card. The connector type on the Intel card is Hirose U.FL-R-SMT and on the antenna U.FL-LP-066.
Other Possible Internal Upgrades
USB relay power switch
New keyboard (non-taiwanese) [2]
FM transmitter
CPU/GPU/Chipset voltage mod
Silicon Motion NAND flash replacement
Modemport - Wifi antenna, additional ethernet port
Modemport as a switch - remove to turn off, plug in to power
BIOS Revisions
Official Asus Eee PC ftp directory: USA Taiwan Asus Update Utility Eee PC directory: Asus.com
Newer releases last, sorted chronologically.
Tools:
8804
Bios date 2007-07-25, initial release
Available via Asus Update
Full 100 MHz FSB
Chip report as an Intel I915GM rather than Intel I910GML
Wireless and screen flickering problems reported
0302
Bios date 2007-10-10
FSB lowered to 70 MHz
0204
Bios date 2007-10-05
Fixes USB2 and webcam problems
0401
Bios date 2007-10-17
Fix sometimes password is requested when entering setup
Optimize Windows XP
Linux Hardware Output
Output [3]:
00:00.0 Host bridge: Intel Corporation Mobile 915GM/PM/GMS/910GML Express Processor to DRAM Controller (rev 04)
00:02.0 VGA compatible controller: Intel Corporation Mobile 915GM/GMS/910GML Express Graphics Controller (rev 04)
00:02.1 Display controller: Intel Corporation Mobile 915GM/GMS/910GML Express Graphics Controller (rev 04)
00:1b.0 Audio device: Intel Corporation 82801FB/FBM/FR/FW/FRW (ICH6 Family) High Definition Audio Controller (rev 04)
00:1c.0 PCI bridge: Intel Corporation 82801FB/FBM/FR/FW/FRW (ICH6 Family) PCI Express Port 1 (rev 04)
00:1c.1 PCI bridge: Intel Corporation 82801FB/FBM/FR/FW/FRW (ICH6 Family) PCI Express Port 2 (rev 04)
00:1c.2 PCI bridge: Intel Corporation 82801FB/FBM/FR/FW/FRW (ICH6 Family) PCI Express Port 3 (rev 04)
00:1d.0 USB Controller: Intel Corporation 82801FB/FBM/FR/FW/FRW (ICH6 Family) USB UHCI #1 (rev 04)
00:1d.1 USB Controller: Intel Corporation 82801FB/FBM/FR/FW/FRW (ICH6 Family) USB UHCI #2 (rev 04)
00:1d.2 USB Controller: Intel Corporation 82801FB/FBM/FR/FW/FRW (ICH6 Family) USB UHCI #3 (rev 04)
00:1d.3 USB Controller: Intel Corporation 82801FB/FBM/FR/FW/FRW (ICH6 Family) USB UHCI #4 (rev 04)
00:1d.7 USB Controller: Intel Corporation 82801FB/FBM/FR/FW/FRW (ICH6 Family) USB2 EHCI Controller (rev 04)
00:1e.0 PCI bridge: Intel Corporation 82801 Mobile PCI Bridge (rev d4)
00:1f.0 ISA bridge: Intel Corporation 82801FBM (ICH6M) LPC Interface Bridge (rev 04)
00:1f.2 IDE interface: Intel Corporation 82801FBM (ICH6M) SATA Controller (rev 04)
00:1f.3 SMBus: Intel Corporation 82801FB/FBM/FR/FW/FRW (ICH6 Family) SMBus Controller (rev 04)
01:00.0 Ethernet controller: Atheros Communications, Inc. AR5007EG 802.11 b/g Wireless PCI Express Adapter (rev 01)
03:00.0 Ethernet controller: Atheros Technology Corp. L2 100 Mbit Ethernet Adapter (rev a0)

Datasheets
References