Electric Bobby Car Hoverboard Upgrade
From ivc wiki
Jump to navigation
Jump to search
The printable version is no longer supported and may have rendering errors. Please update your browser bookmarks and please use the default browser print function instead.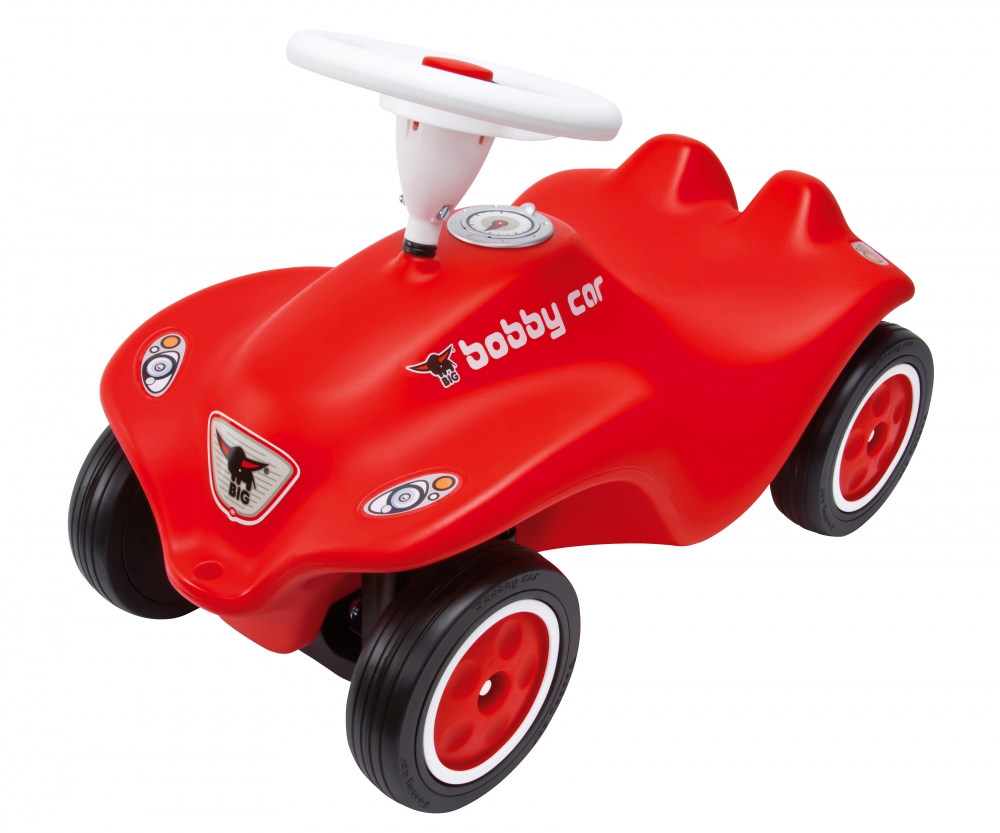 This project puts four 350W hoverboard motors in a Big Bobby Car toy vehicle, to give it independent four wheel drive and a top speed of 29km/h with turbo activated. All controlled by two potentiometer triggers on the steering wheel.
Specifications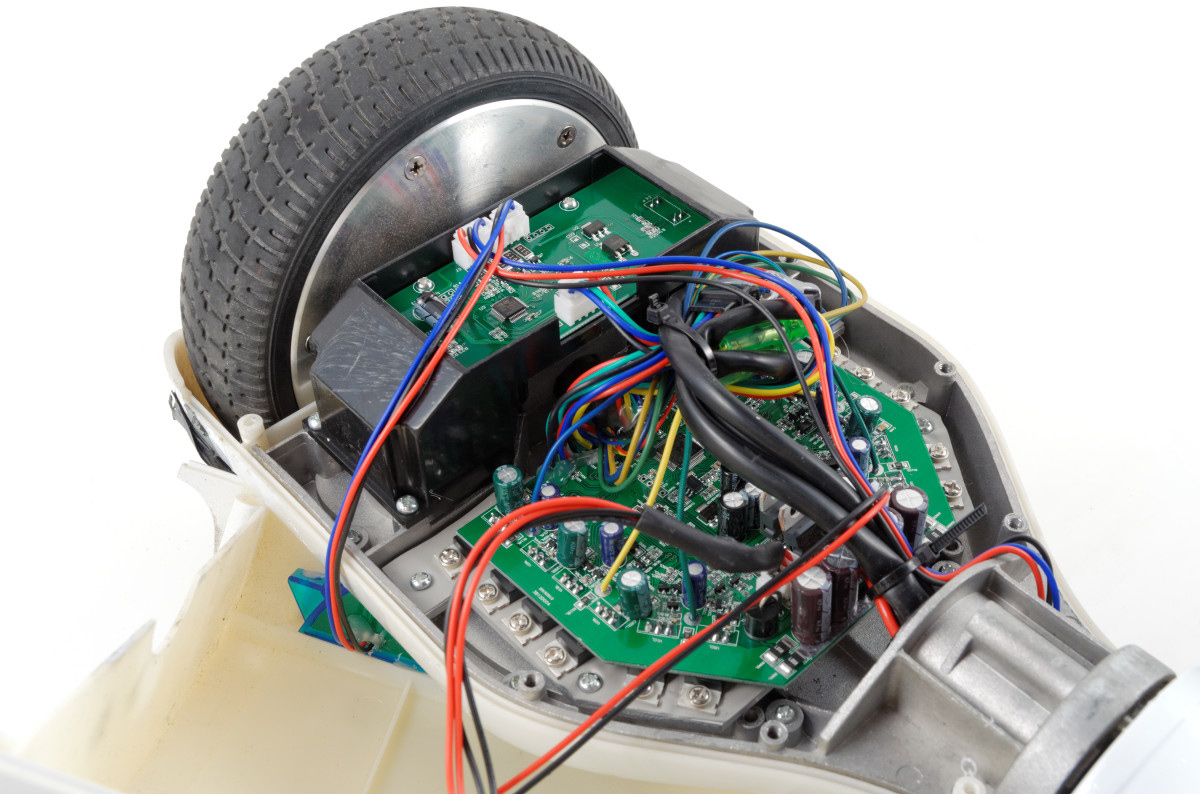 Project start: January 2019
Controller: 2x Hoverboard main boards - 2015 date

MCU: STM32F103 72MHz ARM Cortex-M3 core
Flasher: ST-Link V2 Programming Unit clone

Motors: 4x direct drive 3-phase brushless electric wheel hub motors (BLDC) with hall effect sensors, 350W nom., 800W peak

Continuous Current(A): 1 to 25A

Tire type: non-pneumatic rubber tire, road pattern
Tire size: 7-inch / 170 mm
Battery: Lithium-ion rechargeable 18650-cells, 10S2P 36V 4400mAh 158.4Wh pack with XT60 connector

Upgrade: Controller can handle 13S (48V), 12S battery upgrade easiest

Charger: Lithium-ion charger 42V 2A 3-pin connector with built-in fan

Upgrade: External charger for anything else

Internal connectors:

PCB headers: JST B4B-XH-A 2.54mm pitch
Cable connectors: JST SM 4-pin and 5-pin 2.54mm pitch

Vehicle base type: BIG New Bobby-Car Red - note that it's the BIG version, easier to put your legs over the front wheel

Vehicle upgrade: Small cussion to improve seating comfort

Dimensions assembled: L57 x W30 x H39 cm
Original load-bearing: 50 kg max. - exceeded 150% 🤭
Control inputs
The hacked firmware supports a quite a few different types of control types, either partially or fully emplemented:
ADC Analog voltage input via potentiometer - safety pull-down resistors on ADC1 and ADC2 recommended, high frequency filter to smoothen out the voltage
I2C Nintendo Nunchuck official remote - I2C pull-ups required on SDA and SCL
UART Serial control via another MCU or directly via terminal
PPM Remote control via R/C radio
Overview
A rough overview of the components in the system.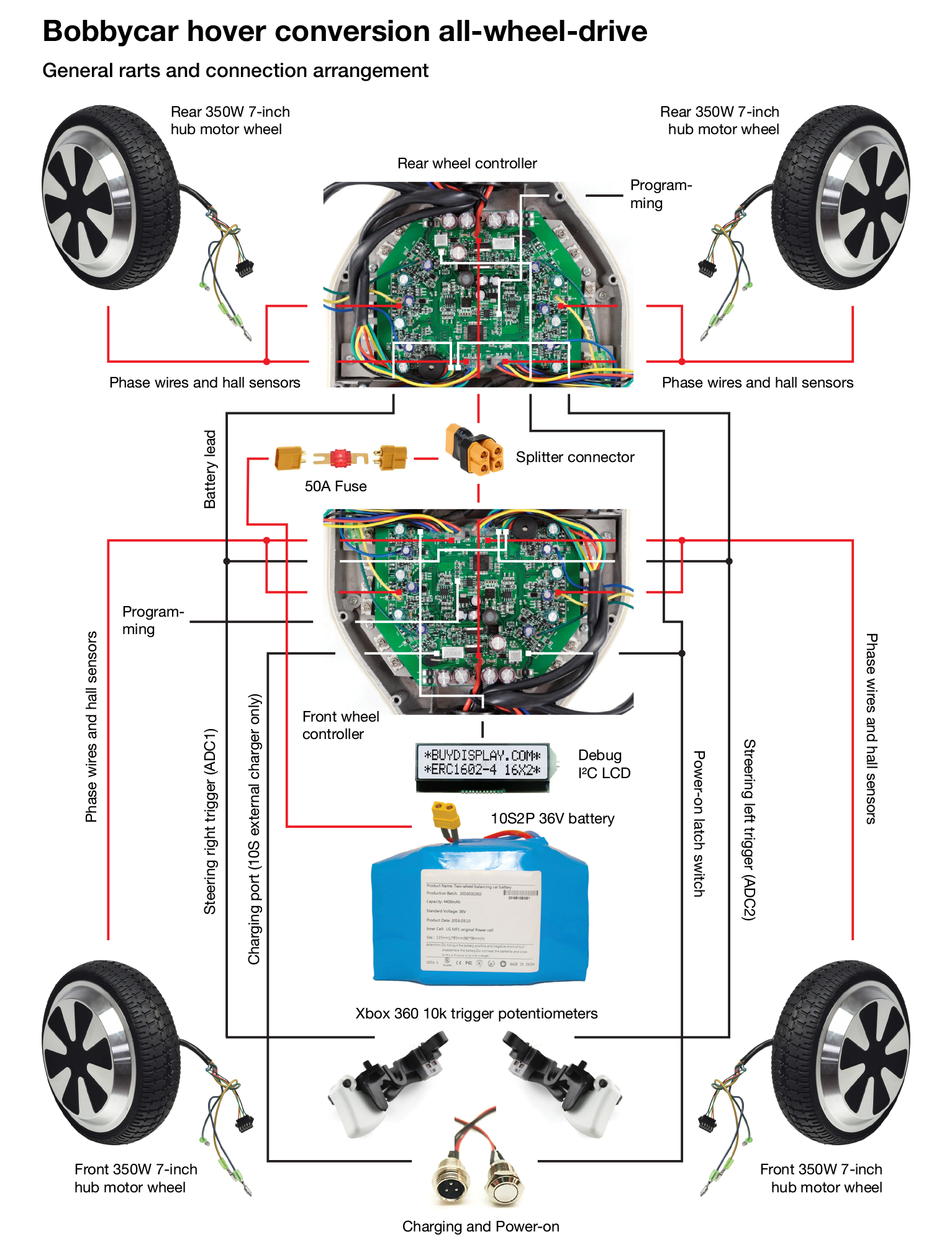 Schematics
Pin-out
Schematic and pin-out of the hoverboard connections, by NiklasFauth. Pulled from the full schematic.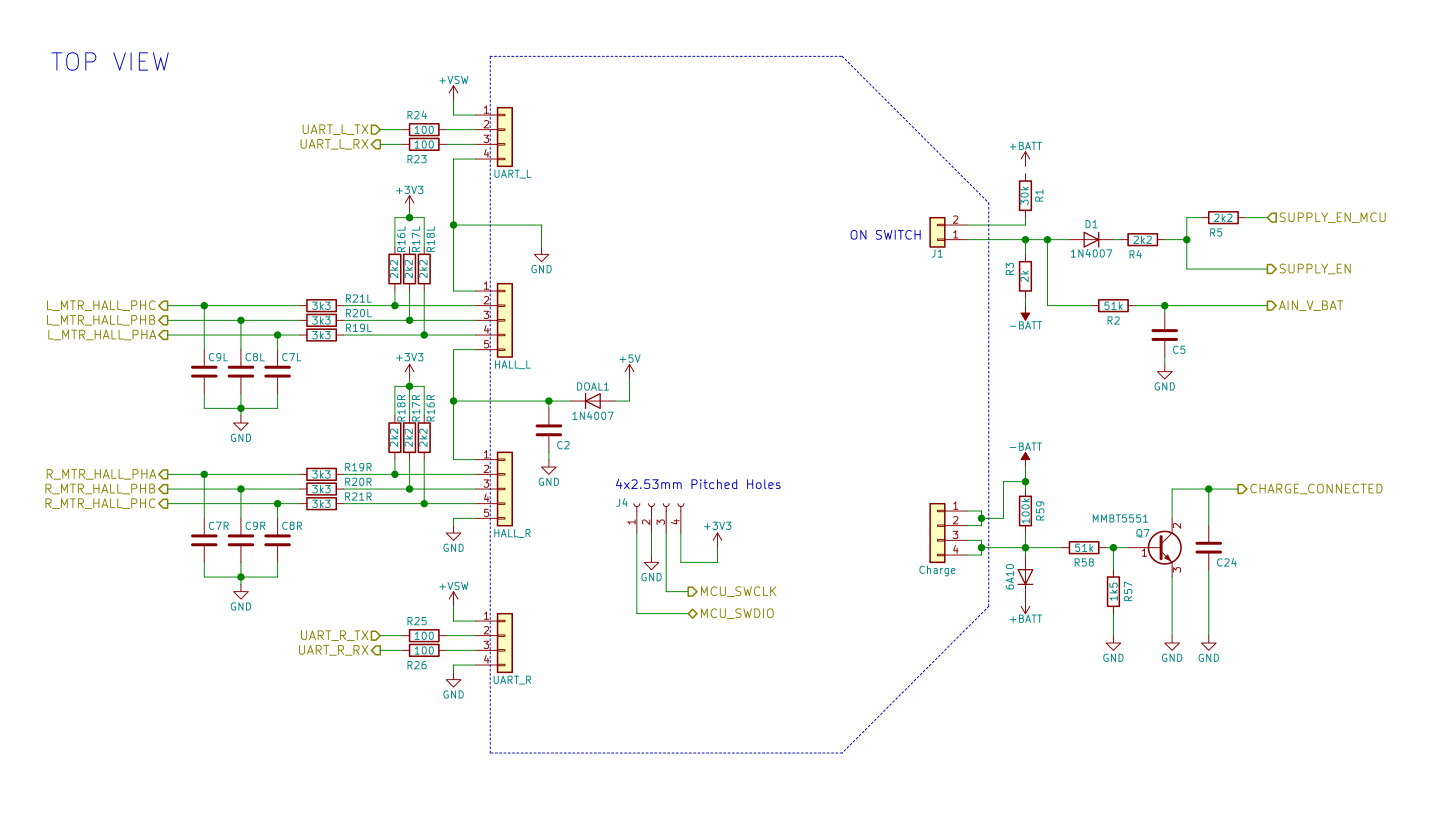 Illustration courtesy NiklasFauth.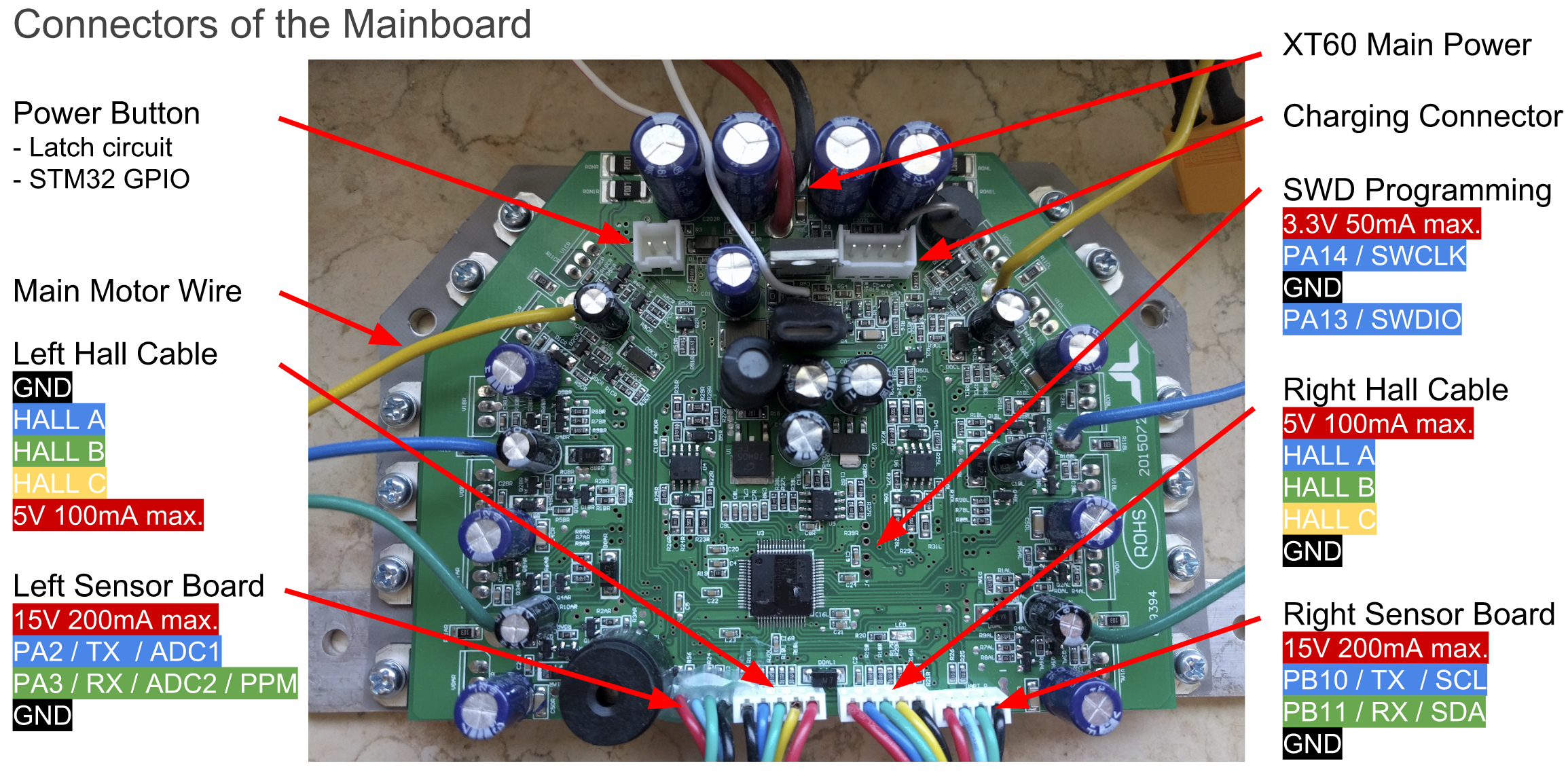 STM32F103 MCU pin-out: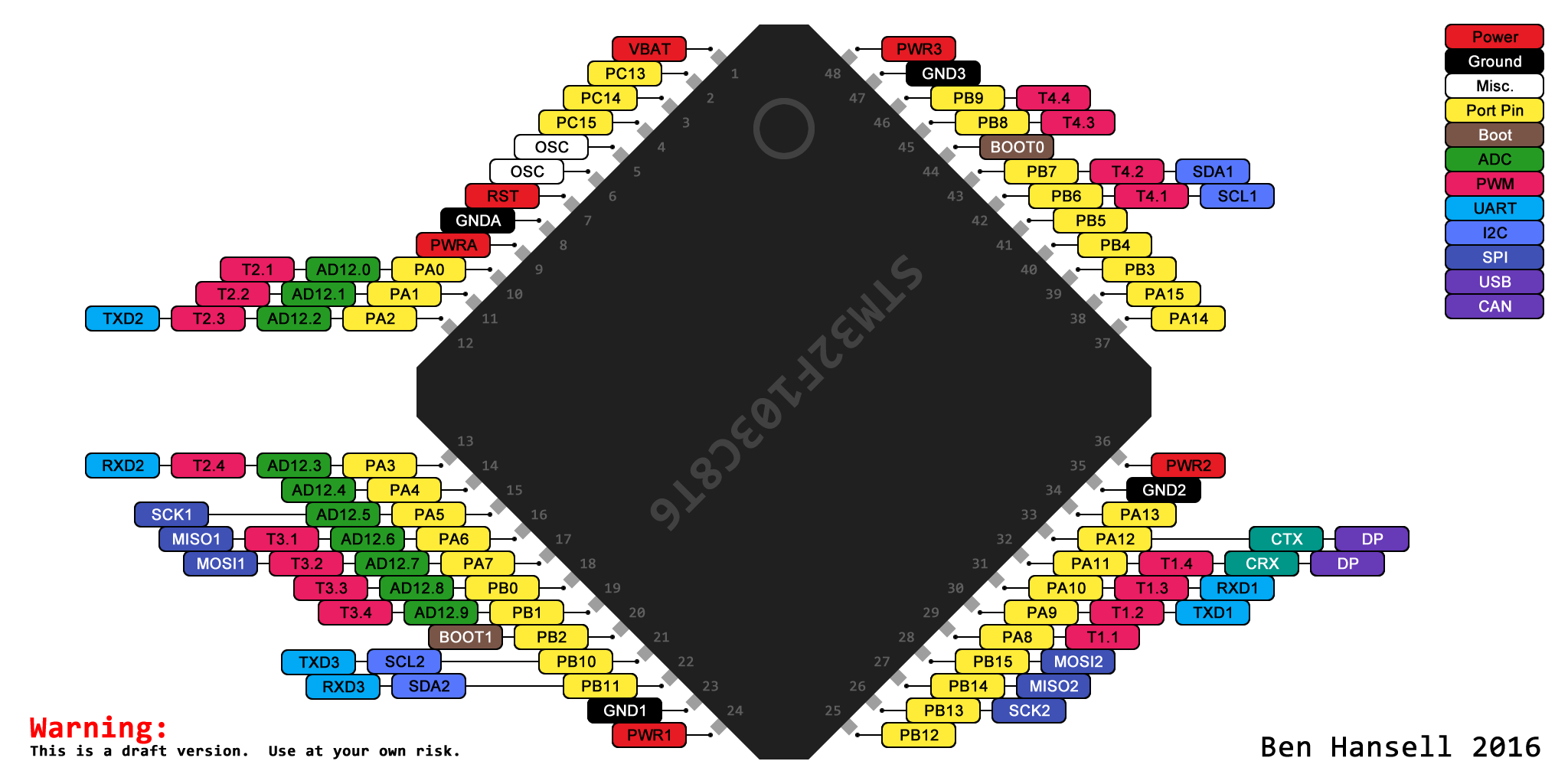 Throttle filter and connection board
This is a PCB I designed to break out the ADC/UART/PPM/I2C signals to make it easier to finish the build. It has master and slave throttle splitting, where one driver board can be turned off without interfereing with the other - allows for 2x2 front/rear or 4x4 drive!
It also adds filtering to the analog signals for voltage/potentiometer based throttle and pull-ups to the I2C-lanes for Nunchuck-throttle. All configurable via solder-jumpers for quick setup/change.
Inspired by the Jan Henrik break-out boards.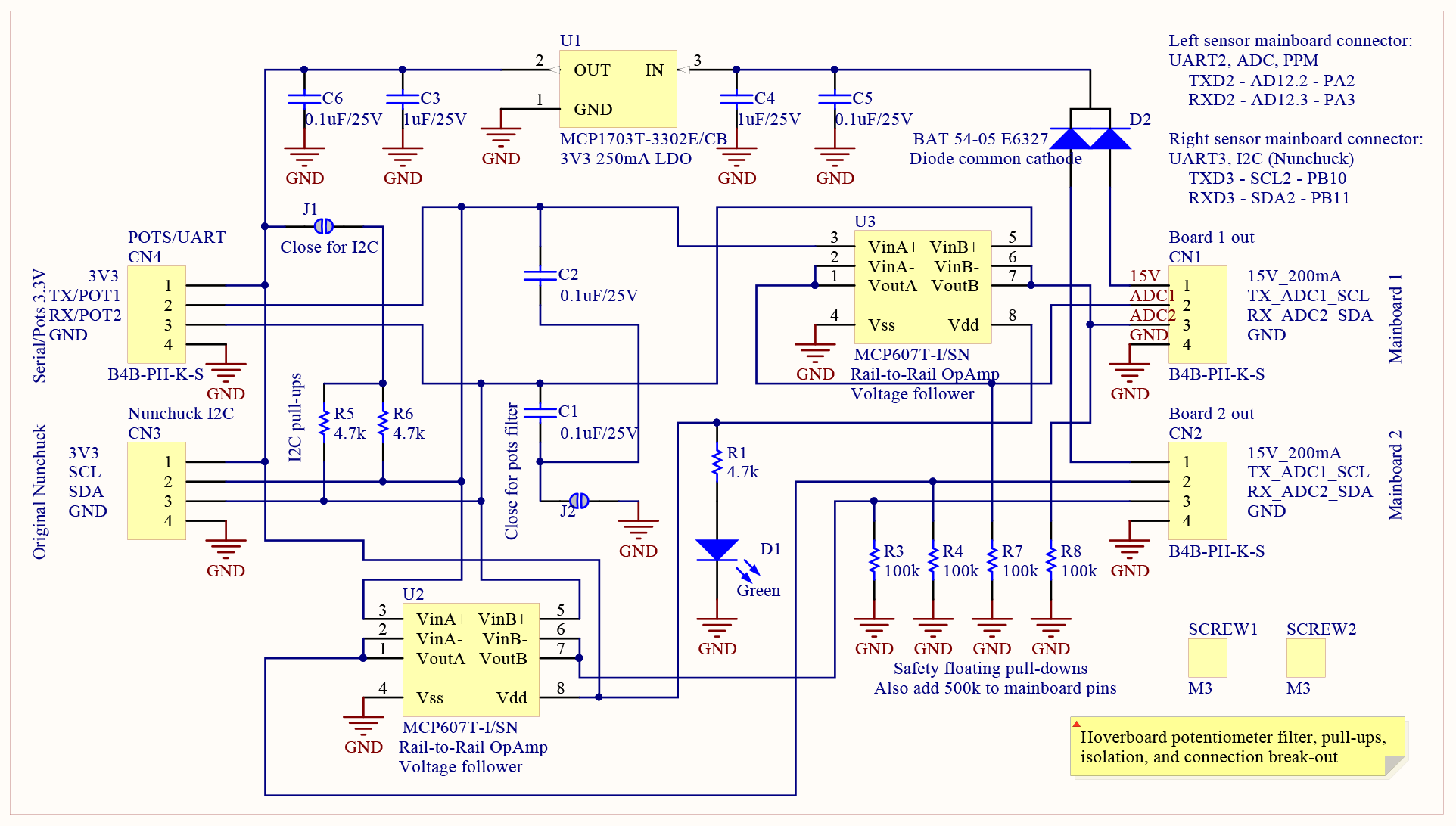 Inspiration