BlueSolar 100-15 True MPPT solar charge controller
From ivc wiki
Jump to navigation
Jump to search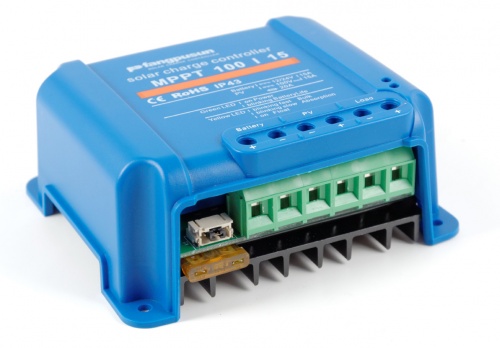 The BlueSolar series of charge controllers are some of the latest and most efficient MPPT controllers available. The BlueSolar 100-15 controller is based on a Freescale MC9S08AC32 40MHz MCU, can handle up to 100V 15A PV installation, hence then model name. This allows up to 400W of PV on a 24V battery setup, which is pretty much for such a relatively small controller.
Also known as the nice clone, Fangpusun BlueSolar 100-15
Specs
Type: MPPT charge controller with load output
Micocontroller: Freescale MC9S08AC32 40Mhz MCU
Switches: MOSFET N-channel 100V/180A/5mOhm, 40V/190A/2.5mOhm for load output
Max. PV voltage: 100V
Max. PV current: 15A
Max. load current: 15A
Battery voltage: 12V or 24V, auto-detect
Battery fuse: 20A blade fuse
Protection:

Over-voltage (PV, battery)
Over-temperature (buck converter)
Low-battery voltage cut-off
"BatteryLife" intelligent battery management

Terminals: screw terminals, max. 6mm2/10AWG
Monitoring: Two LEDs, remote VE Direct RS232 communication cable to a computer or meter device
Features: Day/night timing and light dimming option via RS232 port
Auxilary port: JST-PH 4-pin 2mm pitch connector, pinout GND-RX-TX-5V, 19200 baud rate
Firmware: Upgradable via VE Direct RS232 cable and VE Connect software
Stock firmware: v1.16
Manufacture date: 2016, week 15
Size: 113.9 x 100.7 x 46.9 mm
Board layout
Schematic
The following is a partial reverse-engineer of the power stage of the charge controller, no logic or support circuitry is included.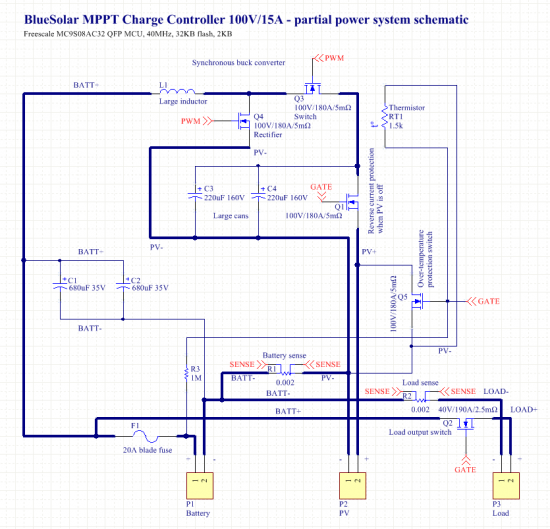 Monitoring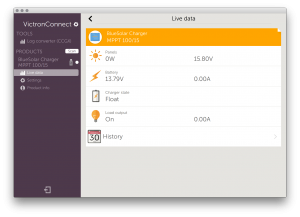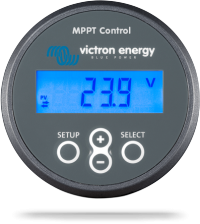 The RS232 port on the controller, when connected, outputs a continuous stream of the current status and state of the system.
Status values provided:
Panel voltage, mV - measured direct after the screw terminal
Panel power, W - product of Battery current x Panel voltage, there is no dedicated panel current
Battery voltage, mV - measured on directly after the screw terminal, before the fuse
Battery current, mA - sense resistor, delta pv and load current, panel is directly connected to battery and load output
Load output state, ON/OFF - output switch state
Load current, mA - sense resistor
Yield total, kWh - accumulated overall
Yield today, kWh - accumulated one day
Maximum power today, W - peak power output achieved
Yield yesterday, kWh
Maximum power yesterday, W
Changing the settings of the controller is also possible, done via special commands outlined in the white paper. They begin with a ":" and end with a new-line character.
References